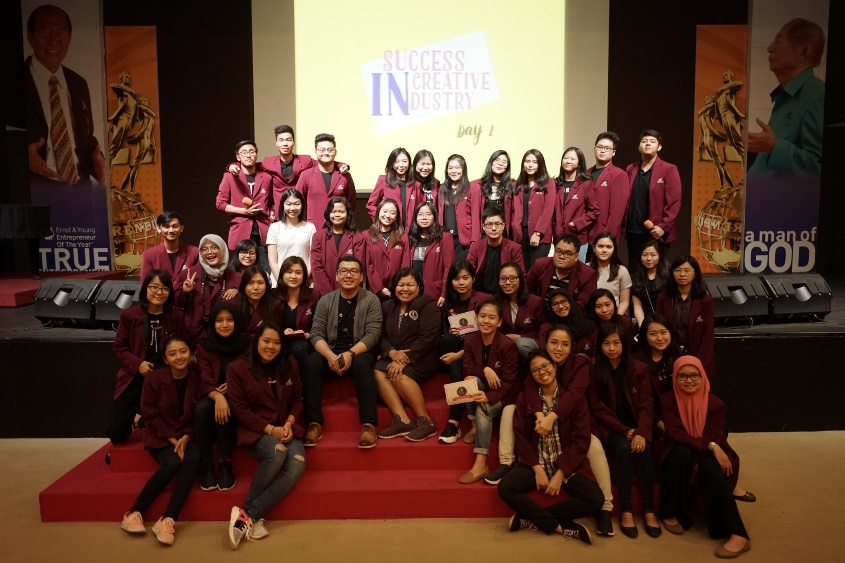 SUCCESS IN CREATIVE INDUSTRY – Seminar Entrepreneurship 4 Guild Corporate Entrepreneur
Seminar Success in Creative Industry merupakan salah satu kegiatan fundraising dari mahasiswa E4 guild corporate entrepreneur. Fundraising ini dilakukan untuk menjadi modal awal tugas project SAA mereka berupa event membuat bazar di G-Walk Citraland. Topik yang diangkat dalam seminar ini bergerak pada dunia bisnis industri kreatif. Seperti yang diketahui bahwa dunia industri kreatif merupakan dunia yang berkaitan dengan penciptaan atau penggunaan pengetahuan dan informasi. Topik ini sangat menarik untuk dibahas karena mengingat banyak generasi saat ini yang mulai tertarik pada bisnis di bidang ini. Pada seminar Success in Creative Industry, speaker yang berkesempatan untuk berbagi ilmunya adalah INIJIE, Buana Perkasa dan Tommy Tarumanegara.
INIJIE merupakan pembicara pada hari pertama seminar tersebut. INIJIE adalah seorang food blogger, professional food photography dan merupakan winner of influence Asia 2015. Pada kesempatan tersebut, beliau menceritakan perjalanan awalnya tertarik pada food blogger hingga dapat sukses menjadi food blogger terkenal saat ini. Selain menjadi food blogger, beliau juga merupakan seorang professional food photography yang telah bekerjasama dengan beberapa restoran ternama di Surabaya. Beliau berpesan bahwa detail itu penting, terutama dalam dunia visual. Untuk menghasilkan suatu hasil foto produk yang excellent, dibutuhkan beberapa hasil foto yang lain yang kemudian dibandingkan hingga dipilihlah hasil foto terbaik dari yang terbaik. Dalam prosesnya, INIJIE juga merasakan akan hasil kata "learning by doing." Dari yang awalnya hobi foto makanan dan memberi review mengenai makanan tersebut hingga belajar melalui fase trial and error untuk mendapat suatu hasil foto produk yang excellent serta dapat memuaskan customer yang telah percaya pada jasa foto yang beliau tawarkan.
Buana Perkasa dan Tommy Tarumanegara merupakan pembicara pada hari kedua seminar tersebut. Buana Perkasa merupakan founder dari Rahasia Gadis dan co-founder dari merci.aime, @rintisan.id dan @boxofanswer.id. Sedangkan Tommy Tarumanegara merupakan founder dari Hyperion Visual dan Hyve.id. Walaupun dalam satu dunia industri kreatif, namun keduanya memiliki concern yang berbeda, yaitu antara media sosial, video maker dan start up digital market place. Saat berbagi pengalaman, keduanya mengaku membuka bisnis ini karena berawal dari hobi masing-masing. Dengan adanya passion, keseriusan dan keuletan selama menjalani proses awal start up bisnis, maka seiring berjalannya waktu bisnis kedua pembicara, yang ternyata merupakan saudara sepupu, bisa bertahan hingga hari ini. Dalam menjalankan bisnisnya, Buana Perkasa lebih mengutamakan needs yang sedang dibutuhkan oleh followersnya (konsumen). Hal ini tidak jauh berbeda dengan bisnis yang dimiliki Tommy Tarumanegara yang lebih mengutamakan kualitas hasil videonya daripada aspek-aspek yang lain.
Seminar Success in Creative Industry diselenggarakan pada 16 – 17 April 2018 lalu. Jumlah peserta yang menghadiri seminar tersebut mencapai empat ratus orang di tiap harinya. Dengan adanya seminar Success in Creative Industry, mahasiswa E4 kelas AB ini berharap dapat memberikan informasi-informasi baru mengenai bisnis di dunia industri kreatif dan dapat bermanfaat bagi para mahasiswa yang juga tertarik start up bisnis di bidang ini.
Kontributor : Leonora Jeanifer – PSY 2016