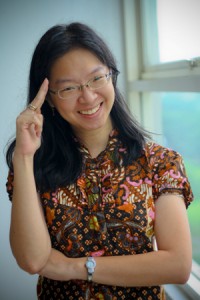 Livia Yuliawati, S.Psi., M.A., Ph.D. adalah salah satu dosen di Fakultas Psikologi Universitas Ciputra sejak tahun 2007. Ia mendapatkan gelar Sarjana Psikologi dari Universitas Surabaya dan gelar Master of Arts in Pastoral dari STT Moria Surabaya. Sesuai dengan panggilan hidupnya dalam dunia pendidikan, ia berupaya untuk membagikan hidup, nilai, dan pengetahuannya sebagai investasi bagi generasi mendatang yang lebih baik.Ia mengajar serangkaian mata kuliah berikut: Life Coaching, Identifikasi dan Pengembangan Kreativitas, Psikologi Umum 1-2, Entrepreneurship 1-2. Selain itu ia juga membimbing kegiatan proyek serta skripsi mahasiswa. Minat penelitiannya berfokus pada topik tentang integrasi psikologi dan iman Kristen, religiusitas-spiritualitas, remaja tanpa ayah, serta entrepreneurship.Pada tahun 2005-2006, ia meneliti tentang perbedaan kecerdasan emosional remaja ditinjau dari keberadaan ayah. Berlanjut pada tahun 2009-2010, ia meneliti tentang karakter entrepreneurship, perkembangan identitas, moral, dan spiritual remaja tanpa ayah. Ia juga aktif mempublikasikan karyanya dalam konferensi berskala nasional dan internasional. Beberapa artikel di antaranya adalah:
Change of Fatherless Teen, dipresentasikan pada International Conference: Improving the Quality of Human Life: Multidisciplinary Approach on Strategic Relevance for Urban Issues, JW Marriot Hotel, Surabaya,6-7 September 2007.
Counselling for Adolescents' Inner Wounds in Family Setting, dipresentasikan pada The 5th Congress of the Asia Pacific Association of Psychotherapies, Four Seasons Hotel, Jakarta, 5-7 April 2008
Stimulating Integrative Thinking in Entrepreneurship Education, dipresentasikan pada The 1st Indonesian Conference on Innovation, Entrepreneurship, and Small Enterprise, ITB Campus, Bandung, 21-24 Juli 2009
Religiosity and Spirituality as Two Sides of the Same Coin: An Integrated Concept based on Christian Perspective, dipresentasikan pada International Conference on Spirituality-National Conference on Positive Psychology, Univ. Kristen Maranatha, Bandung, 7-9 Januari 2010
Looking for Diamond from Fatherless Family: Descriptive Study of Entrepreneurial Characteristics on Fatherless Teen, dipresentasikan pada International Conference on Early Childhood and Youth Development, Univ. Katolik Widya Mandala, Surabaya, 24-25 Juni 2010.
Sejauh ini, Ibu Livia bersama suami menggembalakan suatu komunitas jemaat. Ia juga terlibat dalam panitia acara-acara untuk anak muda. Selain itu, ia juga memberikan pelatihan, seminar, dan pembinaan dengan tema-tema psikologi yang terintegrasi dengan tema kerohanian. Baginya kehidupan manusia harus dipahami secara utuh, baik dalam aspek psikologis maupun aspek spiritualnya.
Year

Description

2008

MORIA THEOLOGICAL SCHOOL – Surabaya, IndonesiaMA in Pastoral

Thesis entitled: Counseling for Teenagers with Inner Wounds in Family: An Integrative Study of Psychology and Theology

2006

UNIVERSITY OF SURABAYA, PSYCHOLOGY FACULTY – Surabaya, IndonesiaBA in Psychology (minat Psikologi Klinis)

Thesis entitled: Differences of Teenagers' Emotional Intelligence in terms of the Existence of the Father
AREA OF COMPETENCE AND INTEREST
Fatherless family, fatherless teen
Entrepreneurial characteristics, passion
Topics related with integration of psychology and theology, religiosity, spirituality
Mentoring, emotional intelligence, celebrity worship syndrome, VALS (value, attitude, lifestyle) on teenagers
RESEARCH PROJECTS 
Entrepreneurship Characteristics, Identity, Moral, and Spiritual Development on Fatherless Teens in Surabaya
Stimulating Integrative Thinking in Entrepreneurship Education
Achieving Holistic Personal Growth: Integration of Spiritual Approach into Psychology Education
Profile of Lifestyle from Teenagers as K-pop Lovers in Surabaya
SCIENTIFIC PAPERS/POSTERS 
Change of Fatherless Teen
Counselling for the Adolescents' Inner Wounds in Family Setting
Counselling Values and Big Themes of Biblical Framework: An Integration of Psychology and Theology
Characteristics of Parents' Emotional Closeness as the Model and Mentor for Teenagers' Emotional Intelligence
Stimulating Integrative Thinking in Entrepreneurship Education
Achieving Holistic Personal Growth: Integration of Spiritual Approach into Psychology Education
Religiosity and Spirituality as Two Sides of The Same Coin: An Integrated Concept based on Christian Perspective
Looking for Diamond from Fatherless Family: Descriptive Study of Entrpreneurial Characteristics on Fatherless Teen