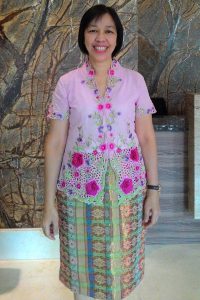 Prof. Dra. Jenny Lukito Setiawan, M.A., Ph.D., Psikolog. mulai berkarir sebagai dosen Psikologi sejak tahun 1993 dan menjadi dosen tetap Fakultas Psikologi Universitas Ciputra sejak tahun 2007. Saat ini, beliau menjadi wakil rektor bidang akademik.. Sebelumnya beliau pernah menjabat sebagai Ketua Program Studi Psikologi kemudian menjadi Dekan Fakulas Psikologi Universitas Ciputra. Saat ini beliau  mengampu mata kuliah Mental and Behavioral processes, Psikologi Konseling, Research Proposal dan skripsi.
Pendidikan S1 diselesaikannya di Fakultas Psikologi Universitas Padjajaran, pendidikan S2 di The University of Nottingham United Kingdom bidang Human Relations, dan S3 di The University of Nottingham United Kingdom bidang konseling.
Wanita asli Surabaya ini sangat tertarik dan ekspert di bidang Psikologi Perkawinan, Psikologi Konseling, Pengasuhan Anak, Co-parenting, Entreprepreneurial Self-Efficacy, Entreprepreneurial Characteristics. Hal ini yang memicu beliau terus menggarap keahliannya melalui berbagai penelitian yang sudah banyak dipublikasi. Salah satu dari penelitiannya tentang "Optimizing Co-parenting to Develop Entrepreneurial Personality in Children" yang telah diublikasikan dalam Anima Indonesian Psychological Journal pada tahun 2017. Selain itu beliau juga gemar melakukan presentasi oral dalam acara baik nasional maupun internasional. Salah satu contohnya pada tahun 2017 beliau memprentasikan tentang Parental Support to Develop Entrepreneurial Characteristics in Teenagers di Singapore Conference on Applied Psychology 2017, Singapore.
NIDN:
EMAIL:
jennysetiawan@ciputra.ac.id
PENDIDIKAN:
S1 Fakultas Psikologi Universitas Padjajaran
S2 bidang Human Relation The University of Nottingham United Kingdom
S3 bidang Konseling The University of Nottingham United Kingdom
EXPERTIS:
Psikologi Perkawinan, Psikologi Konseling, Pengasuhan Anak, Co-parenting, Entreprepreneurial Self-Efficacy, Entreprepreneurial Characteristics
BIDANG PENGAJARAN:
Mental and Behavioral processes, Psikologi Konseling, Research Proposal dan skripsi
PUBLIKASI
PENELITIAN
| | | |
| --- | --- | --- |
| Tahun | Judul | Keterangan |
| 2017 | Optimizing Co-parenting to Develop Entrepreneurial Personality in Children | Dipublikasikan dalam Anima Indonesian Psychological Journal |
| 2014 | Examining Entrepreneurial Self-Efficacy among Students. | Dipublikasikan dalam Procedia Social and Behavioral Sciences, |
| 2011 | Stages in The Help-Seeking Decision-Making Process and Factors Involved | Dipublikasikan dalam Anima Indonesian Psychological Journal |
| 2009 | Students' Preferential Helpers in Facing Specific Areas of Concerns: An Indonesian Study | Dipublikasikan dalam Anima Indonesian Psychological Journal |
| 2008 | University Students and Their Concerns: Prevalence and Degree of Severity | Dipublikasikan dalam Anima Indonesian Psychological Journal |
| 2008 | Understanding The Struggle of University Students in Indonesia | Dipublikasikan dalam Anima Indonesian Psychological Journal |
| 2006 | Willingness to Seek Counselling, and Factors That Facilitate and Inhibit The Seeking of Counselling in Indonesian Undergraduate Students | Dipublikasikan dalam British Journal of Guidance & Counselling |
PEMAKALAH DAN PRESENTASI ORAL
| | | |
| --- | --- | --- |
| Tahun | Judul Materi | Keterangan |
| 2017 | Parental Support to Develop Entrepreneurial Characteristics in Teenagers | Dipublikasikan dalam Singapore Conference on Applied Psychology 2017, Singapore. |
| 2016 | Happiness among Sojourner Students: The Roles of Extraversion Tendency, Emotional Support, Informational Support, and Resilience Efficacy | Dipublikasikan dalam 6th Asian Congress of Health Psychology, Yokohama, Japan. |
| 2014 | Assessing Entrepreneurial Attitude among Undergraduates | Dipublikasikan dalam 2014 International Conference of Organizational Innovation, Manila, Phillipines. |
| 2014 | Interrelationships among Entrepreneurial Social Support, Lecturers' Entrepreneurial Competence, Entrepreneurial Self-Efficacy, and Entrepreneurial Attitude Orientation. | Dipublikasikan dalam The Fifth International Asian Association of Indigenous and Cultural Psychology Conference, Solo, Indonesia. (Keynote Speech) |
| 2013 | Examining Entrepreneurial Social Support among Undergraduates, | Dipublikasikan dalam  2013 International Conference of Organizational Innovation, Huahin, Thailand. |
| 2012 | Entrepreneurship Education as Life Challenges, | Dipublikasikan dalam  Asian Association of Indigenenous and Cultural Psychology International Conference, Langkawi, Malaysia. (Invited Symposium) |
| 2012 | The Importance of Marriage Enrichment Program in Improving Happiness and Well-Being, | Dipublikasikan dalam 4th Asian Psychological Association Conference: Mindfulness, Well-being & Positive Psychology, Jakarta, Indonesia. |
BUKU
| | | |
| --- | --- | --- |
| Tahun | Judul | Keterangan |
| 2017 | Building Entrepreneurial Children: Mengembangkan Karakter Entrepreneurial Anak melalui Kualitas Pernikahan Orang Tua | Diterbitkan oleh Universitas Ciputra |
| 2011 | Peran bimbingan konseling dalam pengembangan karakteristik entrepreneur mahasiswa. Dalam Y. Probowati, S. Handoyo, & A. Matulessy (Eds.), Pendidikan karakter: Perspektif guru dan psikolog (hal. 253-271). | Diterbitkan oleh Selaras Malang |
| 2011 | The significance of positive perceptions of counseling in willingness to seek counseling help: An Indonesian study. Dalam F. Deutsch, M. Boehnke, U. Kuhnen, & K. Boehnke (Eds.), Rendering borders obsolete: Cross–cultural and cultural psychology as an interdisciplinary, multi–method endeavor. Bremen, Germany: International Association for Cross–Cultural Psychology, hal. 221-234. | Diunduh dari www.iaccp.org |
WORKSHOP
| | |
| --- | --- |
| Tahun | Judul Materi |
| 2017 | Workshop "Pengembangan karakter entrepreneurial pada anak" |
| 2016 | Workshop "My parents, my supporters: How parents can support their children in facing today's world" |
| 2015 | Workshop "Achieving team success by understanding the personality" |
| 2014 | Workshop "Know your spouse and family" |
| 2013 | Workshop "Bringing psychological concept to the market place" |
| 2012 | Workshop "Pengenalan diri dan efektivitas pelayanan; Membangun semangat entrepreneurial dalam pelayanan" |
LAIN-LAIN:
Ketua komisi Bina keluarga di suatu organisasi sosial di Surabaya