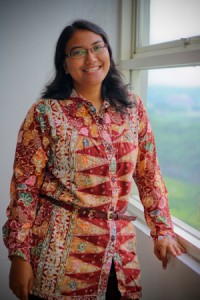 Cicilia Larasati Rembulan, S.Psi., M.Psi., Psikolog. adalah salah satu dosen tetap di Universitas Ciputra. Bergabung sejak bulan Juni 2010. Ia lulusan dari Universitas Sanata Dharma (S1) dan Universitas Gadjah Mada (S2). Mengambil major psikologi klinis, dan minor psikologi pendidikan.
Beberapa pengalaman di bidang penelitian antara lain, pernah mendapatkan penghargaan tingkat nasional, Suwarsih Warnaen Award, atas penelitian tentang remaja pengungsi, menjadi bagian dari tim peneltian tentang neurotik (asisten disertasi), menjadi bagian dari tim penelitian tentang problem sekolah anak di kota dan desa (diadakan oleh Universitas Gadjah Mada), menjadi bagian dalam tim penelitian ISDP (International Sexual Description Project) (diadakan oleh Universitas Sanata Dharma), menjadi bagian dari tim penelitian sebagai advisor therapist tentang penyintas gempa di Bantul (kerjasama antara NGO Psychology Beyond Border, USA dan Universitas Sanata Dharma).
Beberapa pengalamannya di bidang pendidikan antara lain menjadi asesor tumbuh kembang anak, siswa akselerasi, siswa berkebutuhan khusus di Unit Konsultasi Psikologi UGM, psikolog freelance di TK Bambini Montesori Yogyakarta. Pernah pula bergabung di LSM Titian Foundation sebagai coordinator community learning centre. Selain itu pernah menjadi konselor untuk Sekolah International Karangturi tingkat Primary, Secondary, IGCSE, dan A level. Beberapa pengalaman di bidang training antara lain psikoedukasi pada remaja tingkat SMP dan SMU tentang NAPZA. Selain itu, pernah juga memberikan training pada guru tentang tumbuh kembang anak, menjadi fasilitator para mahasiswa penerima beasiswa Miserior, fasilitator amazing race training PT.Telkomsel Kalimantan (kerjasama Aswangga Psychology Centre dan Universitas Sanata Dharma). Juga pernah memberikan training PIOR pada orangtua tentang komunikasi.Berbekal pengalaman tersebut, ia ingin membagikan wawasan yang dimiliki kepada para mahasiswa sekaligus terus belajar dan mengasah ilmu psikologi di Universitas Ciputra.
| | | | | | |
| --- | --- | --- | --- | --- | --- |
| Year | Description | 2009 | UNIVERSITAS GADJAH MADA YOGYAKARTAMagister Profesi, mayor klinis minor pendidikanTesis : Penguatan Resiliensi dengan Pelatihan Strategi Koping Fokus Emosi Pada Remaja Putri yang Tinggal di Panti Asuhan | 2006 | UNIVERSITAS SANATA DHARMA, YOGYAKARTAS1 Psikologi KlinisSkripsi : Analisis Kebutuhan pada Remaja Pengungsi Timor-Timur yang Tinggal di Panti Asuhan di Gunung Kidul |
AREA OF COMPETENCE AND INTEREST
Happiness, Wellness, Well being
Growth, Resiliency
Stress and Coping
Entrepreneurial self-efficacy
RESEARCH PROJECTS 
Pengembangan Model Pelatihan Kognitif Behavioral untuk Meningkatkan Body Image Resilience
SCIENTIFIC PAPERS/POSTERS 
Entrepreneurs are wealthy but can they be authentically happy ?
Positive Growth Dynamic of People Live with HIV AIDS (PLWHA) in Surabaya, East Java
Berikut adalah beberapa abstrak dari Jurnal yang beliau buat :
Entrepreneurs are Wealthy, but Can They be Authentically Happy?
CiciliaLarasatiRembulan
Faculty of Psychology of Ciputra University Surabaya, Indonesia
crembulan@ciputra.ac.id
Abstract
Becoming entrepreneurs can make people wealthy, make impact in economical growth, create new job for other people. The logic in a business is to innovate, answering the market need, and scale up the company to gain more profit.  In becoming wealthy, entrepreneur can get more choice in life. In the other side,wealthiness can also be counterproductive. Someone who make money as a main goal will become unhappy in her/his life in general. Some research shows that entrepreneur have a lot of risk such as : psychologically illness, high risk from private losses, business failure, work- family conflict, overload, ambiguity, role stress  and physical problem.  This paper is a preliminary study to understand the dynamic of stress of entrepreneurs and develop understanding that illustrates happiness in entrepreneur's life. Based on a review of psychological literature, this paper proposes a model of psychological risk dynamics to be an entrepreneur and the pathway to achieve authentic happiness. This paper also learn from the preliminary case of the person who experience failure and success when they do risk taking in business. And how they achieve their authentic happiness. The methods that which used is qualitative case study with purposive sampling (N=2). Suggestions for future research and practical implication are also presented.
Keyword = entrepreneur psychological risk, authentic happiness, stress
Dipresentasikan di UniversitasCiputradalamrangkaIndonesia International Conference on Innovation, Entrepreneurship, and Small Business, 26-28 Juni 2012.
—————————————————————————————————————————-
Positive Growth Dynamics of People Live with HIV AIDS (PLWHA)-Injection Drug User (IDU) in Surabaya, East Java
Faculty of Psychology of Ciputra University, Surabaya
CiciliaLarasatiRembulanSudaryantoVivaldyGoenawanKuncoroDewiRahmawati
ABSTRACT
In the past ten years, the number of HIV transmission caused by drug injection had increased from 0.65% to 35.87% (Indonesian Health Department, 2005). Mental health issue frequently occurs in people live with HIV AIDS (PLWHA ) Injection Drug User (IDU) are poor self-acceptance, easily depressed, future worrying. Recent studies almost never put the point of view on positive things about PLWHA-IDU. The objective of this study is to discover any positive growth processes in PLWHA-IDU and how the positive growth dynamics process in facing HIV AIDS.
This is qualitative descriptive study. Participants (N=2) were adults whose diagnosed HIV-AIDS because of drugs injection in Surabaya. The sampling applied was snowball sampling  andanalyse used thematic analysis.
The result showed the common background between two participants are: (1) neglectful parenting in their childhood, (2) started using drug in their early adolescence , and periodically raised the dosage,(3) jailed because of drug abuse and other criminal activities.  Those experiences never made them intimidated, but infected by HIV AIDS was their existential crisis, and pushed them to the process of positive growth. The positive growth process are: (1) high motivation to stop the addiction, (2) looked for support from NGO, (3) became a volunteer or educator in NGO, (4) working normally to support their own life, (5) more concern about family
This study reflected the positive growth experience of people with HIV-AIDS. The output will be constructive for development of NGO programs with the similar objectives.
Key words: Existential crisis, growth, PLWHA, IDU
Dipresentasikan di UniversitasTarumanagara dalam rangka 4th Asian Psychological Association Conference, 5-7 Juli 2012
————————————————————————————————————————–
The Innovative Process of Social Entrepreneurship in Credit Union TM: An alternative of Psychological Empowerment for Communities
Abstract
CiciliaLarasatiRembulan
crembulan@ciputra.ac.id
Faculty of Psychology, Ciputra University Surabaya, Indonesia
International Labour Organization [ILO] stated there is an employment crisis in the world; 75 million adult are jobless. The number of jobless person in Indonesia is 7,61 million. A lot of jobless people try to move to big city hope they can get a better life. This is another problem for big cities. One of the solution is social entrepreneurship; a business which developed for improving the community (Yunus, 2007). Credit union TM is an innovative social entrepreneurship community in Central Java which focus on microfinance. It successfully improve psychology empowerment among the community of farmer and breeder.
The aim of the research is to identify the innovative process of social entrepreneurship development in credit union TM and  to understand how credit union TM improve psychological empowerment among the community. This is a qualitative research using in depth interview method and document record. The participant are the member and the leader in credit union and the community of breeder and farmer (N = 3).
The result showed that : (1) Credit union is an social entrepreneurship organization. Because of the entrepreneurial culture within the organization, they can scale up and sustainable to help more people/community, (2) The combination of microfinance and community development help the high risk farmer/breeder community to solve the problem. In community development, creative collaboration is needed to maximize the outcome, (3) By doing community development  and facilitate microfinance access, it is improved the psychological empowerment (meaning, self determination, competence, and impact).
The output will be constructive for development of NGO programs, government and people who concern developing entrepreneurship and employment in rural area.
Keyword: social entrepreneneurship, sustainable community development, psychology empowerment, credit union.
Dipresentasikan di Universitas Malaysia Perlis dalam rangka Asian Association of Indigeneous and Cultural Psychology Conference, 20-22 Desember 2012
—————————————————————————————————————————–
PromosiKesehatan Mental KomunitasmelaluiGerakanSocial Entrepreneurship*)
CiciliaLarasatiRembulan
FakultasPsikologiUniversitasCiputra, Surabaya
Jl. UC Town Citraland Surabaya 60219
Abstract
            Unemployment is a serious problems in the world nowadays. In urban and rural communities, there are a lot of unemployment. In condition of unemployment, people will be more depressed, stress, and have a low psychological well being. In Yogyakarta, there are breeders who have a high risk to loose their job because they have imbalance bargaining power with trader and fertilizer factory owner.
            Through social entrepreneurship movement they can solve creatively and innovatively the problem they faced. The aim of this study are to understand social entrepreneurship model in this community and to understand the benefit for the member, especially the psychological aspect. The method of this research is qualitative descriptive using semi structured in depth interview and document. The participants are 2 person who contribute to community.
            The intervention process was started from build a community, give motivation, do community activity consist of study, work, play and love. By doing those activity, the outcome are creative solution (independent supply of fertilizer, recycling livestock waste), improve psychological empowerment and minimize the psychological risk. In the future, a lot of improvement should be done because there are a lot of limitation in this study.
Keyword :  macro-clinical psychology, social entrepreneurship, mental health, community
*) Bagian dari paper yang akandipresentasikan di AAICP, Langkawi, Desember 2012
Dipresentasikan di UniversitasAirlanggadalamrangkaTemuIlmiahNasional I IkatanPsikologiKlinis, 1-4 Nopember 2012