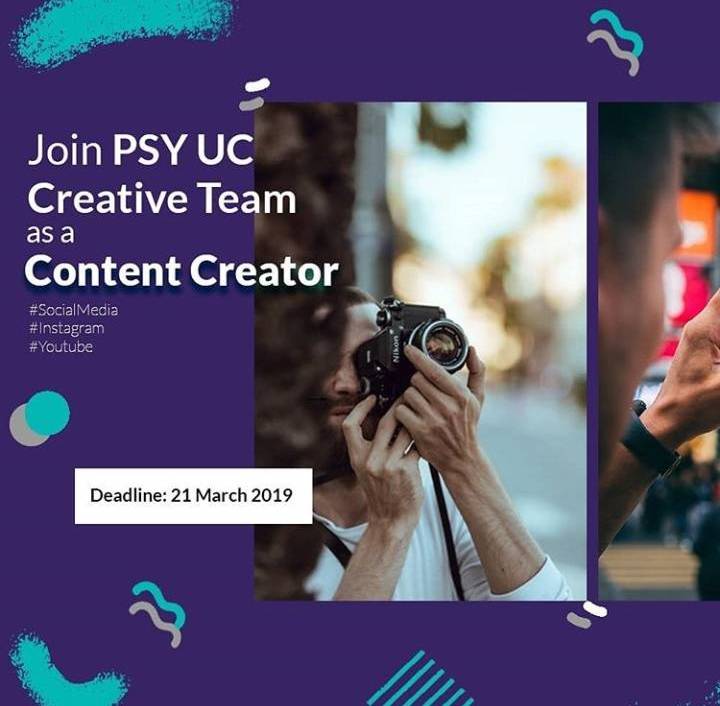 OPEN RECRUITMENT: PSY UC Creative Team as Content Creator
Lagi-lagi PSY UC buka lowongan nih! Kali ini, PSY UC Creative Team lagi buka lowongan buat kamu yang tertarik untuk jadi content creator. Asiknya lagi, bakal ada pelatihannya lho, dan gratis! Yakin dianggurin aja?
Persyaratan:
Mahasiswa aktif PSY UC.
Melampirkan CV terbaru.
Memiliki ketertarikan di bidang vlogging, editing photo dan video, serta kegiatan-kegiatan seputar konten sosial media.
Menyertakan portofolio berupa video singkat 1 menit mengenai PSY UC.
Bersedia meluangkan waktu sekitar 4 jam seminggu untuk mengerjakan konten media sosial PSY UC.
Mampu bekerjasama dalam tim dengan baik.
Manfaat:
Mendapatkan pelatihan GRATIS seputar smartphone vlogging dengan pembicara Abi Prasetya Anuraga (Alumni PSY UC 2014).
Menambah pengalaman serta wawasan seputar pengembangan media sosial.
Mengasah kemampuan di bidang penyediaan konten.
Mengasah kemampuan di bidang pewartaan media.
Fee.
Please submit the required documents to cita.kusuma@ciputra.ac.id and asofia@student.ciputra.id with subject "PSY UC Content Creator Hunt" by March 21st before 3pm.