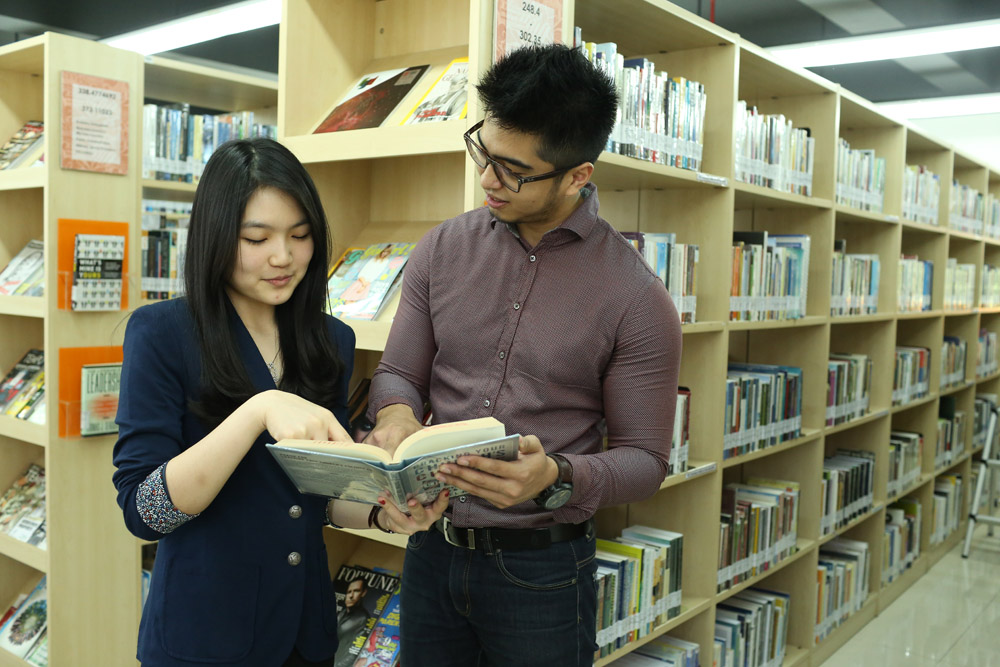 Want to live longer? Read a book.
Book have the power to make us laugh and cry. But what if they had health benefits, too? 3.600 people over 50 years old took part in a study by Yale University. Those who read for more than 3.5 hours a week lived two years longer than non-readers. The study tracked the participants for 12 years. Reading books increased lifespan regardless of gender, wealth, and education.
The study found reading books was more beneficial than reading magazines, reading books involves deeper thinking than reading periodicals. The Study found this helps maintain brain function and leads to a longer life.
Reading could help you live longer and here's some new book collection from UC Library. Just for you.
Arsitektur Interior (INA)
DDC
Title
Author(s)
Publisher
620.112
Self-assembly Lab : experiments in programming matter
Tibbits, Skylar
Routledge
Desain Komunikasi Visual (VCD)
DDC
Title
Author(s)
Publisher
423.1
Kamus Visual Indonesia – Inggris
Corbeil, Jean-Claude; Archambault, Ariane; Haryanto, Frans T.
Bhuana Ilmu Populer
686.224
Typographic Design : form and communication
Carter, Rob [et al.]
Wiley Publishing, Inc.
740
History of Illustration
Doyle, Susan, 1959-; Grove, Jaleen; Sherman, Whitney
Fairchild Books, an imprint of Bloomsbury Publishing Inc.
741.609
History of Graphic Design
Meggs, Philip B.; Purvis, Alston W., 1943-
Wiley Publishing, Inc.
International and Hospitality Tourism Business (HTB)
DDC
Title
Author(s)
Publisher
956.9442
Jerusalem : the biography
Montefiore, Simon Sebag
Pustaka Alvabet
International Business Management (IBM)
DDC
Title
Author(s)
Publisher
330.03
Kamus Ekonomi Inggris : untuk pelajar, mahasiswa dan umum
Citra Umbara
Citra Umbara
Kedokteran (MED)
DDC
Title
Author(s)
Publisher
616.0252
First Aid Manual : emergency procedures for everyone at home, at work, or at leisure
Dorling Kindersley
Dorling Kindersley
616.98
Lingkungan dan Kesehatan = Environment and Health
Soedarto
CV Sagung Seto
617.5721
Arthritis & Arthroplasty : the shoulder
Dines, David M.; Laurencin, Cato T.; Williams, Gerald R.
Elsevier Saunders
617.575
Arthritis & Arthroplasty : the hand, wrist and elbow
Brown, Thomas E. [et al.]
Elsevier Saunders
617.584
Arthritis & Arthroplasty : the foot and ankle
Coetzee, J. Chris; Hurwitz, Shepard R.
Saunders, an imprint of Elsevier Inc.
617.7002
Atlas Ilmu Penyakit Mata
Ilyas, H. Sidarta, 1936-
CV Sagung Seto
618.1906
Atlas of Breast Surgical Techniques
Klimberg, V. Suzanne
Elsevier Saunders
Library (LIB)
DDC
Title
Author(s)
Publisher
220
Alkitab dengan Catatan Versi Pemulihan
Living Stream Ministry
Yayasan Perpustakaan Injil dan Lembaga Alkitab Indonesia
225
Perjanjian Baru dengan Catatan Versi Pemulihan
Living Stream Ministry
Yayasan Perpustakaan Injil dan Lembaga Alkitab Indonesia
352.231
Himpunan Kliping Tahun 2017 Kegiatan Gubernur Jawa Timur Dr. H. Soekarwo
Sekretariat Daerah Provinsi Jawa Timur, Biro Humas dan Protokol
Biro Humas dan Protokol Sekretaris Daerah Provinsi Jawa Timur
352.231
Himpunan Kliping Tahun 2017, Kegiatan Wakil Gubernur Jawa Timur Drs. H. Saifullah Yusuf
Sekretariat Daerah Provinsi Jawa Timur, Biro Humas dan Protokol
Biro Humas dan Protokol Sekretaris Daerah Provinsi Jawa Timur
423.9922
Kamus Lengkap Inggeris –  Indonesia, Indonesia – Inggeris : dengan ejaan yang disempurnakan
Wojowasito, S.; Wasito W., Tito
Hasta
428.2
The McGraw-Hill Handbook
Maimon, Elaine P.; Peritz, Janice H.; Yancey, Kathleen Blake
McGraw-Hill Companies, Inc
495.104
Kamus Praktis Indonesia – Tionghoa, Tionghoa – Indonesia
Liji, Liang
Dian Rakyat
959.803
Proklamasi : sebuah rekonstruksi
Ilham, Osa Kurniawan
Mata Padi Presindo
959.82
Waosan Babad Galuh dari Prabu Ciungwanara Hingga Prabu Siliwangi : naskah Kraton Kasepuhan Cirebon
Pustaka
Marketing Communication (MCM)
DDC
Title
Author(s)
Publisher
004.67803
The Sage Encyclopedia of The Internet 1
Warf, Barney
Sage Publications
070.49
Understanding Photojournalism
Good, Jennifer; Lowe, Paul, 1963-
Bloomsbury Publishing Plc
302.23
Mass Communication : living in a media world
Hanson, Ralph E.
Sage Publications
302.2307
Strategic management In The Media : theory to practice
Kung, Lucy
Sage Publications
Psikologi (PSY)
DDC
Title
Author(s)
Publisher
150.198
An Introduction To Positive Psychology
Compton, WIlliam C.
Wadsworth, Cengage Learning
150.724
Research Methods : design and analysis
Christensen, Larry B.; Johnson, R. Burke; Turner, Lisa A.
Pearson Education
301.072
Social Research Methods
Bryman, Alan
Oxford University Press
Teknologi Pangan (FTO)
DDC
Title
Author(s)
Publisher
641.302
Developing New Functional Food and Nutraceutical Products
Bagchi, Debasis, 1954-; Nair, Sreejayan
Academic Press, an imprint of Elsevier
664.07
Chemical Contaminants and Residues in Food
Schrenk, Dieter; Cartus, Alexander
Woodhead Publishing is an imprint of Elsevier
Untuk versi PDF, silahkan klik disini atau disini Processing Report 2019_06_10 0840
https://static.uc.ac.id/library/2019/05/UC-HORIZONTAL-LOGO-5cd3b05695e54.png
0
0
admin_library
https://static.uc.ac.id/library/2019/05/UC-HORIZONTAL-LOGO-5cd3b05695e54.png
admin_library
2019-06-10 08:51:59
2019-06-10 08:52:40
New Collection – June 2019