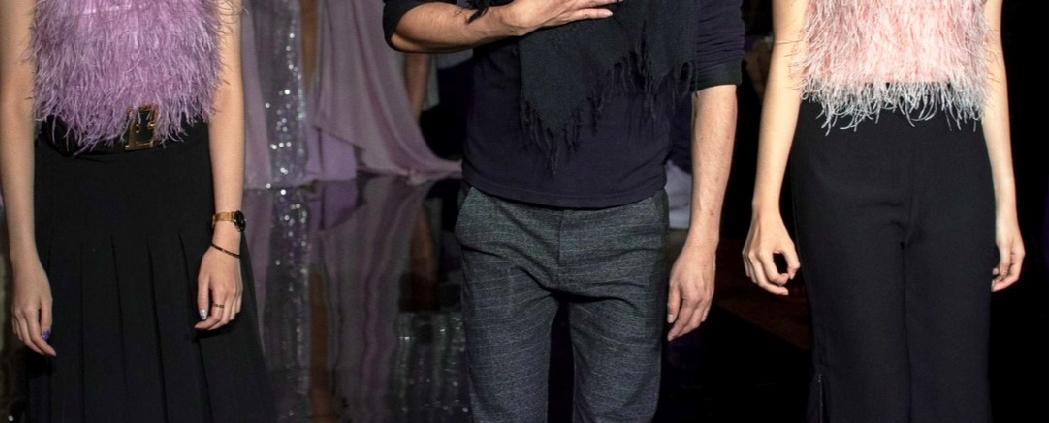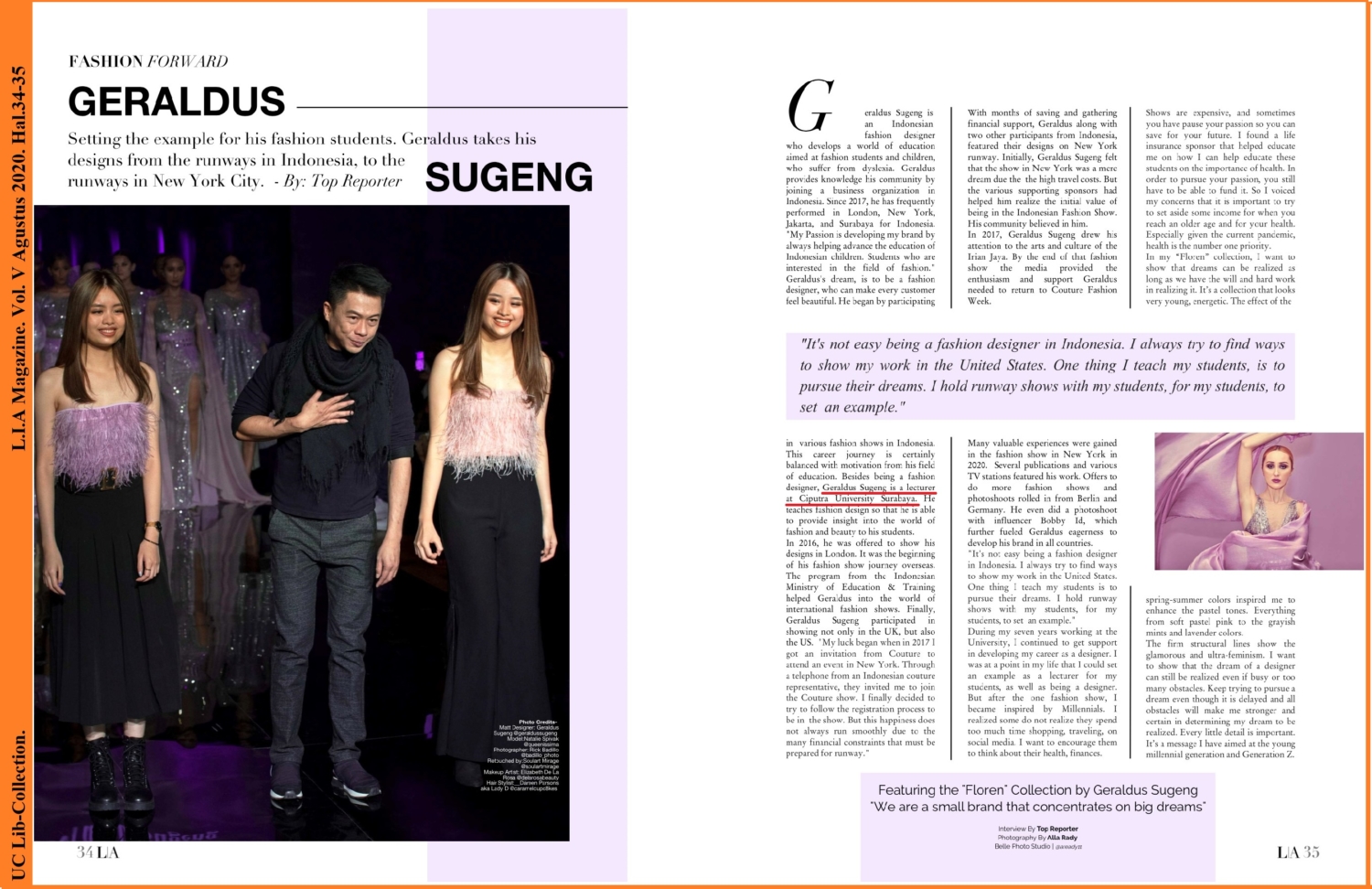 "Setting the example for his fashion students. Geraldus takes his design from the runways in Indonesia,  to the runways in New York City," Top Reporter
"It's not easy being a fashion designer in Indonesia. I always try to find ways to show my work in the United States. One thing i teach my student, is to pursue their dreams. I hold runways show with my students, for my students, to set an example," Geraldus Sugeng
Geraldus Sugeng is an Indonesian fashion designer who develops a world of education aimed at fashion students and children, who suffer from dyslexia. Ceraldus provides knowledge his community by joining a business organization in Indonesia. Since 2017, he has frequently performed in London, New York, Jakarta, and Surabaya for Indonesia. 'My Passion is developing my brand by always helping advance the education of Indonesian children. Students who are interested in the field of fashion." Geraldus's dream, is to be a fashion designer, who can make every customer fed beautiful. He began by participating in various fashion shows in Indonesia. This career journey is certainly balanced with motivation from his field of education. Besides being a fashion designer, Geraldus Sugeng is a lecturer at Ciputra University Surabaya. He teaches fashion design so that he is able to provide insight into the world of fashion and beauty to his students. In 2016, he was offered to show his designs in London. It was the beginning of his fashion show journey overseas. The program from the Indonesian Ministry of Education & Training helped Geraldus into the world of international fashion shows. Finally, Geraldus Sugeng participated in showing not only in the UK, but also the US. 'My luck began when in 2017 I got an invitation from Couture to attend an event in New York. Through a telephone from an Indonesian couture representative, they invited me to join the Couture show. I finally decided to try to follow the registration process to be in the show. But this happiness does not always run smoothly due to the many financial constraints that must be prepared for runway."
With months of saving and gathering financial support, Geraldus along with two other participants from Indonesia, featured their designs on New York runway. Initially, Geraldus Sugeng felt that the show in New York was a mere dream due the the high travel costs. But the various supporting sponsors had helped him realize the initial value of being in the Indonesian Fashion Show. His community believed in him.
In 2017, Geraldus Sugeng drew his attention to the arts and culture of the Irian Jaya. By the end of that fashion show the media provided the enthusiasm and support Geraldus needed to return to Couture Fashion Week. Many valuable experiences were gained in the fashion show in New York in 2020. Several publications and various TV stations featured his work. Offers to do more fashion shows and photoshoots rolled in from Berlin and Germany. He even did a photoshoot with influencer Bobby Id, which further fueled Geraldus eagerness to develop his brand in all countries. "It's not easy being a fashion designer in Indonesia. I always try to find ways to show my work in the United States. One thing I teach my students is to pursue their dreams. I hold runway shows with my students, for my student, to set an example."
During my seven years working at the University, I continued to get support in developing my career as a designer. I was at a point in my life that 1 could Set an example as a lecrarer for my students, as well as being a designer. But after the one fashion show, I became inspired by Millennials. I realized some do not realize they spend too much time shopping, traveling, on social media. I want to encourage them to think about their health, finances.
Shows are expensive, and sometimes you have pause your passion so you can save for your future. I found a life insurance sponsor that helped educate me on how I can help educate these students on the importance of health. In order to pursue your passion, you still have to be able to fund it. So I voiced my concerns that it is important to try to set aside some income for when you reach an older age and for your health. Especially given the current pandemic, health is the number one priority. In my "Floren" collection, I want to show that dreams can be realized as long as we have the will and hard work (in realizing it. It's a collection that looks very young, energetic. The effect of the spring-summer colors inspired me to enhance the pastel tones. Everything from soft pastel pink to the grayish mints and lavender colors.The firm structural lines show the glamorous and ultra-feminism. I want to show that the dream of a designer can still be realized even if busy or too many obstacles. Keep trying to pursue a dream even though it is delayed and all obstacles will make me stronger and certain in determining my dream to be realized. Every little detail is important. It's a message I have aimed at the young millennial generation and Generation Z.
Sumber: L.I.A Magazine. Vol. Aguustus 2020. Hal. 34-35
https://static.uc.ac.id/library/2020/09/jpg.jpg
1253
1049
admin_library
https://static.uc.ac.id/library/2019/05/UC-HORIZONTAL-LOGO-5cd3b05695e54.png
admin_library
2020-09-07 13:32:03
2020-10-26 11:23:09
Fashion Forward. L.I.A Magazine. Vol. V Agustus 2020. Hal.34-35. Fashion Product and Business