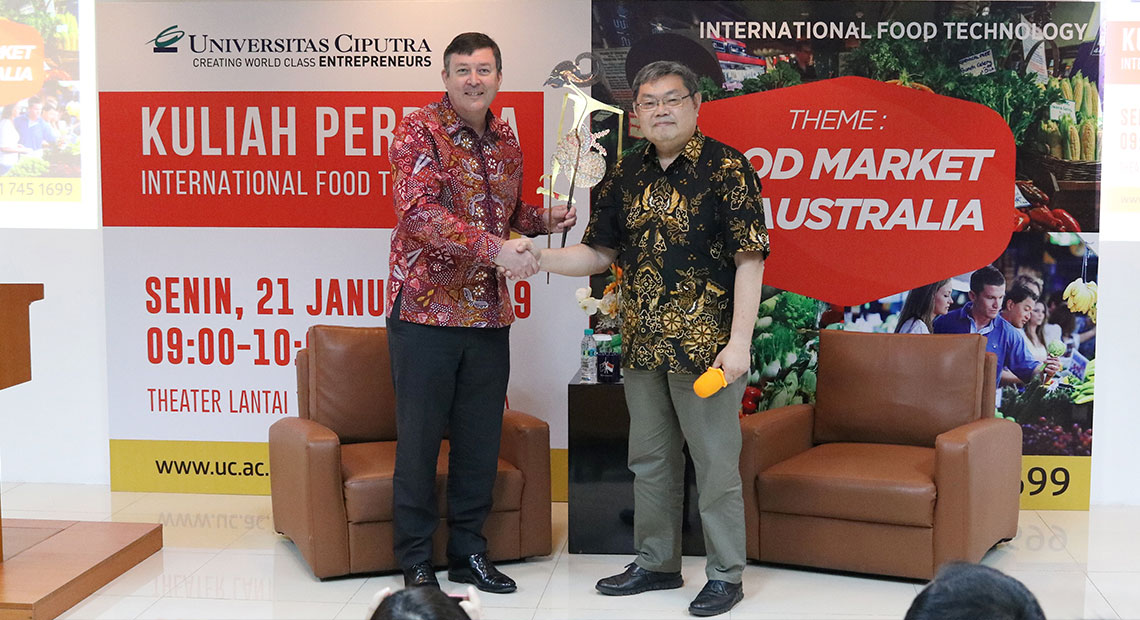 Konjen Australia Sebut Mahasiswa Food Technology UC sebagai Food Entrepreneur in The Future
Suasana Kuliah umum International Food Technology Universitas Ciputra terlihat penuh semangat yang tercermin dari mahasiswa yang sudah hadir memenuhi ruang thater lantai 7 sejak jam 8.00 WIB pagi ini. Kuliah yang dimulai pukul 9.00 WIB ini menghadirkan Chris Barnes, Konsul Jendral Australia di Surabaya, sebagai narasumber.
Dalam paparannya, Chris menyampaikan bahwa Australia dan Indonesia adalah partner di global bisnis, dengan mengutamakan makanan berkualitas tinggi. Food Market di Australia sangat kompetitif dan mengutamakan kualitas, standar keamanan dan nilai tambah. Konsumen di Australia memiliki karakteristik yang didorong oleh value, sepert berani membayar mahal untuk barang yang memiliki kualitas yang baik. Industri makanan di Australia sangat beragam dan termasuk salah satu sektor utama yang menopang perekonomian di Australia dimana "pemainnya" pun sangat beragam dari multinasional sampai "pemain" kecil. Diharapkan peluang besar ini bisa "ditangkap" oleh mahasiswa food technology.
Antusias mahasiswa dari awal kuliah sampai sesi tanya jawab membuat Chris terkesima. "Mahasiswa UC sangat cerdas dan optimis dalam melihat peluang", ungkapnya. Menurut Chris, mahasiswa UC juga gemar untuk berupaya menjalin partnership dengan pihak terkait. Hal ini yang menjadi salah satu alasan Chris Barner ingin sharing tentang Food Market di Australia.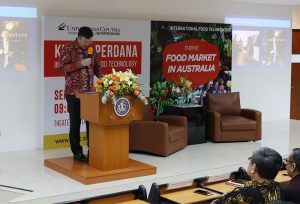 Inovasi produk di Australia sendiri sangat didorong dari hasil penelitian-penelitian akademisi seperti csiro, aegic, autralian institute of food science and technology, rmit university, monash university, deakin university australia sehingga menghasilkan produk yang berkualitas. Dan Universitas Ciputra dalam sedang menjalin kerjasama dengan Monash University dengan salah satu agendanya adalah melakukan penelitian bersama.
Artikel oleh Erlita Tantri – Tim Humas Universitas Ciputra