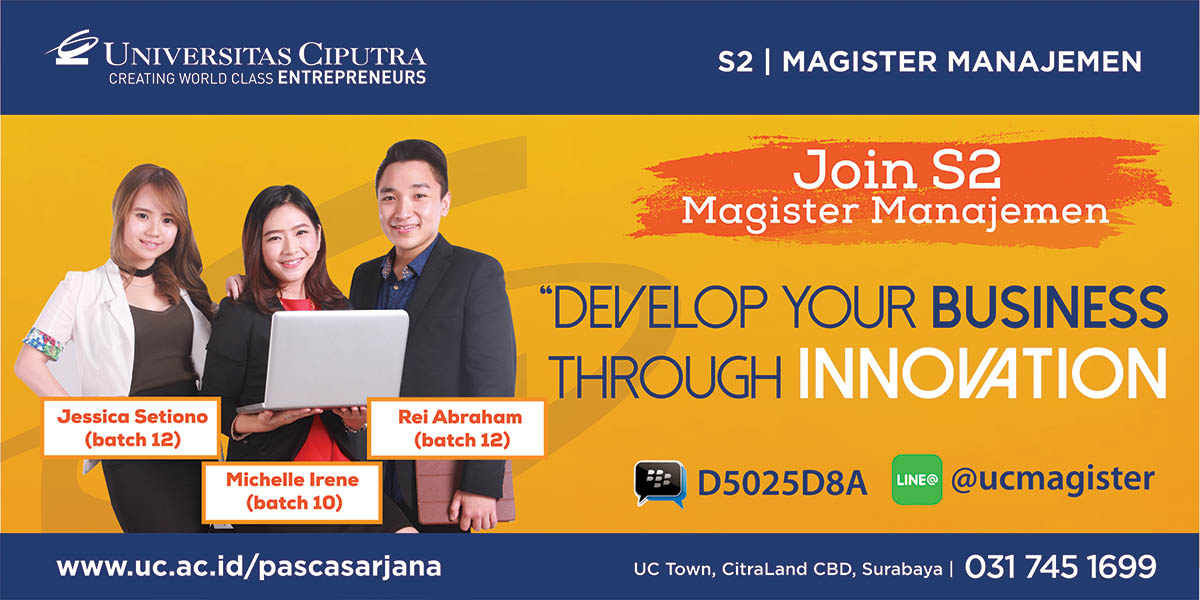 Batch 17 – Pascasarjana Universitas Ciputra
Untuk dapat bersaing dalam pasar global, tentunya dibutuhkan mindset entrepreneurial yang dapat menunjang kekuatan bisnis suatu perusahaan. Universitas Ciputra yang sangat dikenal dengan "Entrepreneurship" membuka peluang untuk lulusan pendidikan strata satu (S1) di Indonesia untuk melanjutkan jenjang pendidikan Pascasarjana dengan program studi Magister Management in Entrepreneurship.
Sudah didirikan sejak tahun 2011, konsentrasi program studi Pascasarjana Universitas Ciputra saat ini terbagi menjadi dua bidang konsentrasi, antara lain: Family Business (Bisnis Keluarga) untuk para pengusaha yang meneruskan bisnis dari keluarganya maupun pengusaha yang akan dan/ atau membangun start-up bisnis, dan Corporate Entrepreneurship (Intrapreneurship) untuk para profesional yang bekerja dalam suatu instansi bertaraf nasional dan multinasional.
Tak perlu ragu mengenai Pascasarjana Universitas Ciputra, karena ada banyak keunggulan program yang ditawarkan, seperti:
• To scale-up the sustainability of business
Menitikberatkan pembelajaran bukan hanya pada bagaimana memulai suatu bisnis (start-up business) tetapi lebih kepada bagaimana mengembangkan bisnis (to scale-up the business) yang sudah ada agar bertumbuh secara berkelanjutan.
• Entrepreneurial Inspiring
Mengundang para entrepreneur dari berbagai bidang (9 sektor industri) sebagai narasumber yang dapat berbagi ilmu, pengalaman, dan tentunya memberikan inspirasi bagi para peserta dalam menjalankan bisnis.
• Entrepreneurial Execution
Pembelajaran dan pembekalan berbisnis tidak hanya sampai pada business plan semata, tetapi langsung diterapkan sejak awal pada mata kuliah Entrepreneurial Project sehingga tercipta suati pembiasaan diri dan pengalaman untuk menjalankan business.
• Entrepreneurial Sustainable
Pembelajaran dan pembekalan bisnis untuk keberlangsungan bisnis yg terus berkembang lebih baik dari masa ke masa.
• Project Based
Mempertajam kemampuan entrepreneur peserta untuk menghadapi bisnis di masa yang akan datang lewat pemahaman terhadap kasus bisnis nyata yang sedang terjadi saat ini.
• Real Business Solution
Diadakan tiap bulan sebagai acara membangun kemampuan solusi bisnis dan network bagi para peserta secara langsung di perusahaan dengan dihadiri oleh CEO / manager.
• Exhibition Innovative Corner
Suatu wadah bagi peserta untuk langsung dapat mempraktikkan usaha yang dimiliki kepada publik.
• Mentoring
Peserta mendapat proses mentoring secara langsung dengan ahlinya.
• Networking
Peserta bertemu dengan para pelaku bidang usaha, di antaranya : owner, CEO, manager, staff, dan sebagainya.
Pascasarjana Universitas Ciputra Batch 17 telah dibuka. "Jangan menunda keputusan anda untuk berkuliah S2 karena saat ini persaingan dalam dunia bisnis maupun dalam dunia korporasi semakin besar," kata Irawadhi Irawan selaku Graduate School Student Advisor Universitas Ciputra. Seluruh kurikulum yang ada didesain agar dapat menghasilkan lulusan yang dapat melakukan start-up, scale up dan sustainability pada dunia bisnis, juga membekali mahasiswa dengan mindset entrepreneur guna menunjang karir.
Daftarkan diri anda sekarang juga karena kuota yang tersedia terbatas! Segera hubungi hotline 0838-4934-3801 atau LINE@ ucmagister.
(Editor : Selvy Tri Ciawati)