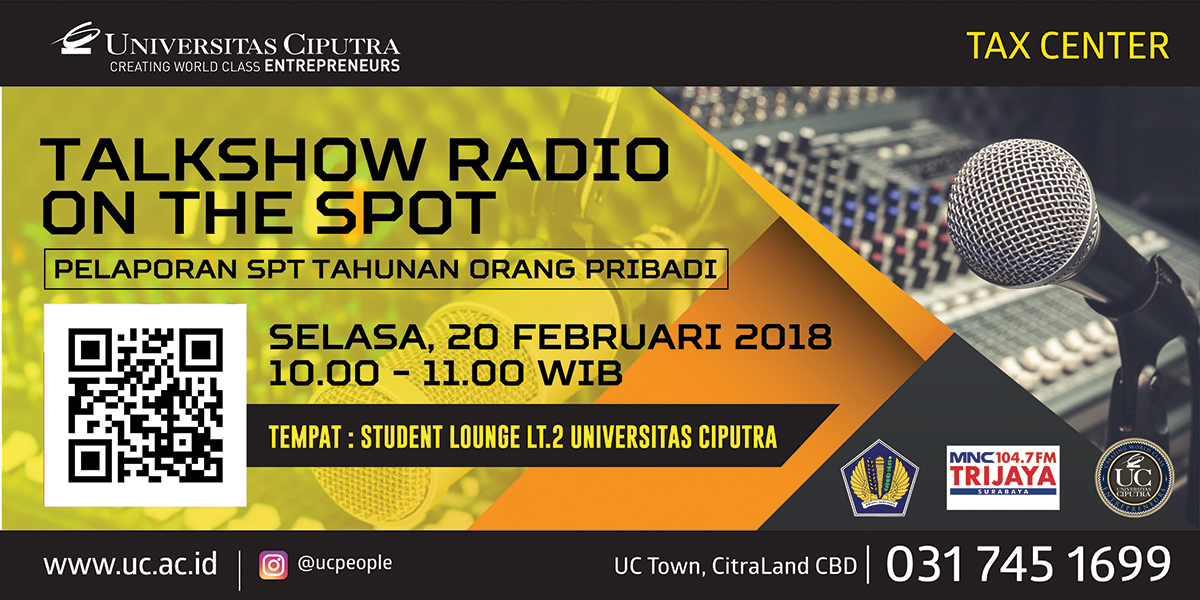 Universitas Ciputra jadi Tuan Rumah Sosialisasi Pajak
Selasa, 20 Februari 2018, Universitas Ciputra akan menjadi tuan rumah dalam acara Talk Show Radio on the Spot yang diselenggarakan oleh Kanwil Direktorat Jenderal Pajak Jatim I. Acara yang rencananya akan digelar mulai pukul 10.00 sampai 11.00 siang ini, bertema Pelaporan SPT Tahunan Orang Pribadi. Acara ini diselenggarakan sebagai salah satu bentuk sosialisasi dari pemerintah mengingat tanggal 31 Maret ke depan merupakan batas akhir pelaporan SPT Tahunan Wajib Pajak Orang Pribadi. Namun, tidak hanya seputar itu saja, dalam talk show yang bekerjasama dengan tax center dari Universitas Ciputra dan Universitas Kristen Petra Surabaya ini, akan dibahas pula hal-hal lain seputar tax center untuk memperkenalkan tax center kepada para peserta yang hadir.
Acara talk show on the spot ini dihadiri oleh mahasiswa dari kedua universitas terkait dan juga terbuka untuk umum tanpa dipungut biaya apapun. Bapak Eko Budi Santoso, M.Si., Ak., CA., CSRA. selaku dosen jurusan Akuntansi Universitas Ciputra turut  menjadi salah satu narasumber yang dipercaya untuk mengisi materi dalam acara tersebut.
Acara ini dilaksanakan di Student Lounge Universitas Ciputra dan akan disiarkan melalui media radio. Turut bekerjasama dalam acara tersebut, Radio MNC Trijaya Surabaya akan hadir dan meliput keseluruhan acara untuk disiarkan dalam saluran radio
(Editor: Grace Angelina Devi – MCM 2015)