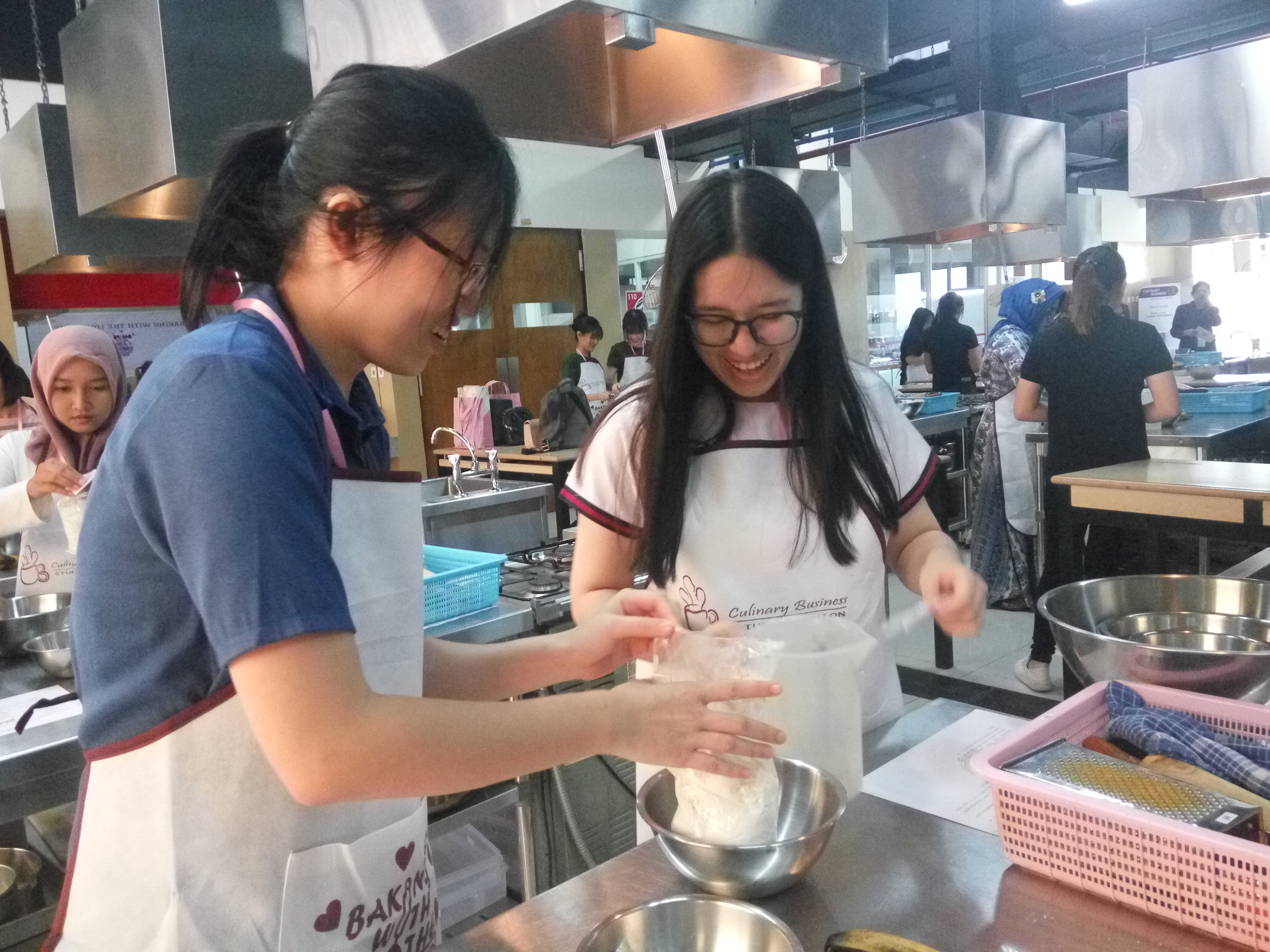 Ungkapkan Cinta dengan Baking?
Perasaan kasih sayang nyatanya tidak hanya diungkapkan pada saat hari Valentine saja. Ungkapan kasih sayang dapat diungkapkan setiap saat dengan berbagai cara yang unik dan menarik. Seperti yang dilakukan oleh jurusan Culinary Business Universitas Ciputra pada Sabtu 10 Maret 2018 kemarin, yang memfasilitasi orang-orang dalam mengungkapkan kasih sayang melalui workshop bertema baking.
Dilaksanakan di CBz kitchen studio laboratory Universitas Ciputra, workshop baking dengan judul "Baking with the Loved One" ini mengajak orang-orang untuk belajar memasak bersama orang terkasih mereka. Terdapat dua sesi dalam workshop ini, sesi pertama akan mengajarkan cara membuat strudel dan sesi kedua akan mengajarkan cara mendekorasi kue. Strudel dipilih karena sedang menjadi tren dalam dunia pastry, sehingga peserta bisa menjadikannya sebagai bisnis. Sedangkan cake decoration dipilih karena cake adalah sesuatu yang melambangkan hadiah untuk orang terkasih. Hanya dengan membayar sebesar Rp 300.000,- per sesi, peserta yang terdiri dari 2 orang setiap timnya dapat mengikuti workshop ini serta mendapatkan berbagai bahan baku memasak, makan siang, goodie bag, apron, sertifikat, dan juga discount voucher yang disediakan oleh panitia.
Workshop ini diselenggarakan oleh mahasiswa CBz angkatan 2017, dalam rangka trial untuk dapat tergabung dalam Student Union (Himpunan Mahasiswa) CBz Universitas Ciputra. Workshop dipimpin oleh salah satu pastry expert yang juga dosen CBz Uiniversitas Ciputra, Chef Eko Maduretno. Juan Jeremiah selaku ketua panitia dalam workshop ini mengaku bahwa tujuan utama dalam workshop ini bukanlah untuk membuat para peserta jago memasak, akan tetapi membuat mereka mempunyai pengalaman seru memasak bersama orang terkasih mereka. "Orang di era teknologi, too much teknologi. Yang jauh menjadi dekat, yang dekat menjadi jauh. Tujuan workshop ini biar you have time with your loved one" kata Juan saat diwawancarai oleh tim UC Media Crew.
Workshop yang disponsori oleh Universitas Ciputra, toko kue Arvian, Rose Brand, dan Direct Printing ini terbilang sukses. Terdapat 52 peserta, dengan pembagian 13 tim di sesi pertama dan 13 tim di sesi kedua. Suasana memasak sangat menyenangkan dan para peserta terlihat sangat antusias dalam mendengarkan instruksi Chef Eko. Sesekali Chef Eko melontarkan candaan yang membuat peserta tertawa dan suasana di ruangan semakin seru. Sepanjang workshop terdapat satu asisten chef yang mencontohkan proses memasak di depan para peserta. Selain itu terdapat juga LO di setiap meja yang bertugas menemani dan membantu peserta selama workshop berlangsung. Dalam workshop ini peserta dipersilakan membawa pulang hasil masakan mereka. Pihak panitia pun telah menyiapkan packaging untuk hal tersebut.
Kontributor : Grace Angelina Devi – MCM – 2015