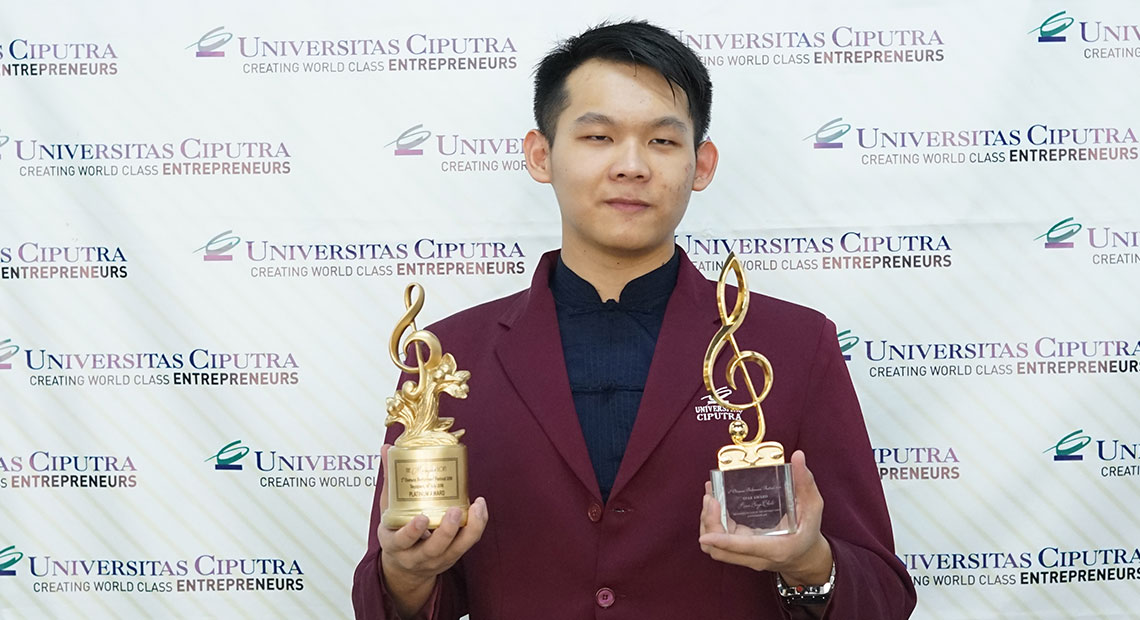 Terbatas Penglihatan, Mengukir Prestasi Internasional
Rainer Yesaya Christa berkiprah di kancah Internasional. Melalui kepiawaiannya bermain piano yang dipelajarinya sejak dibangku SMP, beberapa bulan lalu pria yang lebih akrab dipanggil Rainer ini berhasil dinobatkan sebagai Platinum Awarder of 2nd Overseas Performers' Festival –Singapore 2018 dan Star Awarder of Outstanding Performance at 2nd Overseas Performers' Festival 2018 yang diselenggarakan oleh The Musique Loft . Karena prestasinya itu, Rainer diundang khusus untuk perform di The Star Award Gala Concert – Chengdu, China 2018.
Siapa sangka segudang prestasi itu diraih oleh seorang yang mengalami keterbatasan dalam penglihatannya. Rainer mengidap penyakit langka yaitu Retinitis Pigmentosa yaitu kelainan genetika yang menyebabkan kerusakan pada retina. Sakit ini diketahui sejak Rainer berusia 6 tahun, saat dia mengalami kesulitan untuk melihat. Rainer sudah diupayakan berobat ke Surabaya, Yogyakarta, Jakarta, bahkan sampai Singapore. Kesehariannya Rainer berusaha beradaptasi dengan kekurangannya itu. Dalam belajar, dia dibantu alat bantu lihat khusus menyerupai kaca pembesar. "Ya saya hanya bisa melihat jelas dalam jarak tidak lebih dari 80 cm, selebihnya ya remang-remang. Untuk baca, saya pakai alat ini (sambil menunjukan alat). Disekolah, saya biasaya dibantu teman sebangku untuk lihat tulisan dipapan tulis. Dikampus ini juga", jelas Rainer.
Bagaimana Rainer bisa memainkan piano klasik yang syarat dengan notasi panjang dan aturan-aturan main yang pakem? Rainer mengaku bahwa dia mengandalkan kemampungan mendengar dan menghafalkan. "Guru music saya sangat sabar mengajar. Saya bisanya akan mendengarkan dia bermain, lalu saya akan hafalkan. Jadi saya harus hafal berlembar-lembar notasi berikut aturan mainnya untuk sebuah lagu," tuturnya. Dengan keterbatasnya ini, Rainer dituntut untuk lebih rajin berlatih. "Saya melakukan latihan hampir tiap hari. Saya tahu saya tidak bisa melihat partitur (lembaran notasi lagu), jadi saya harus menghafalkan dengan cermat", imbuhnya.
Rainer menuturkan bahwa orangtua paling berjasa dalam segala keberhasilannya. Anak tunggal asal madiun ini mendapat dukungan penuh dari kedua orang tua nya dalam hidup, studi maupun hobi bermain musiknya. Salah satu dukungan yang diberikan orangtua adalah memperlakukan Rainer layaknya anak dengan pengliatan normal. " Saya tidak pernah dimanjakan. Bersih-bersih rumah pun saya bisa, walaupun nda bisa bersih maksimal. Saat pulang pergi ke Madiun, saya dibiarkan sendiri. Jadi saya tanya-tanya sama orang sekitar saya, untuk menujukan tempat duduk saya", terangnya. Semangat untuk berjuang dan tidak bergantung pada orang lain inilah yang ditanamkan oleh orang tua Rainer. Punya jiwa pejuang dan pemenang sangat penting jadi bekal dalam menjalani hidup. "Saya melihat keadilan Tuhan. Saat saya diijinkan mempunyai kekurangan, disitu juga Tuhan siapkan berkat buat saya dalam bentuk pendengaran yang tajam dan kemampuang mengingat yang kuat. Disitu saya selalu bersyukur", terang Rainer.
Kedepannya Rainer berniat untuk mendirikan sekolah music khusus piano klasik untuk anak-anak. Sejak kecil bakat sudah dipupuk dan diasah. Cita-citanya anak-anak bangsa berbakat akan banyak bermunculan untuk mengharumkan nama Indonesia.