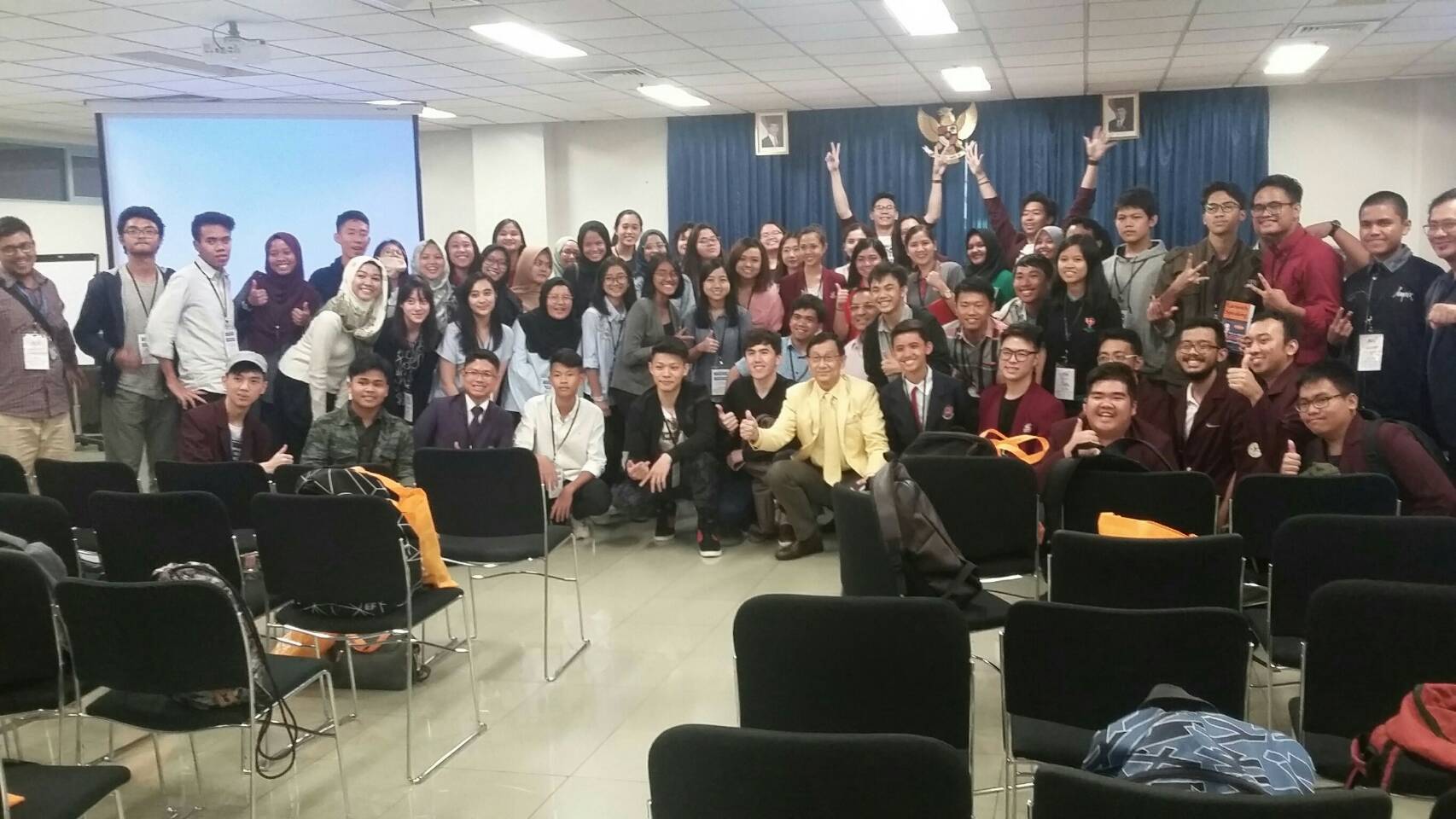 Pengalaman Bertanding dalam Lomba Bertaraf Internasional
Memiliki kompetensi dalam bidang bahasa merupakan suatu kebanggaan yang dapat diimplementasikan untuk menggali potensi diri. Sembilan mahasiswa Universitas Ciputra yang ahli dalam bidang Bahasa Inggris dikerahkan untuk mengikuti perlombaan bergengsi bertaraf internasional yakni The 2018 Asian English Olympics yang diselenggarakan oleh BNEC (Binus English Club). Perlombaan diadakan pada tanggal 8 – 12 Februari 2018 di BINUS (Bina Nusantara) Kampus Anggrek, Jakarta.
Asian English Olympics (AEO) merupakan ajang Olimpiade Inggris yang telah dilakukan sejak tahun 2012. Hingga tahun 2018 ini, AEO masih terus diadakan setiap tahunnya dan merupakan tahun ketujuh AEO. Berdasarkan review dari peserta lomba dari tahun-tahun sebelumnya, AEO telah berhasil dalam meningkatkan kemampuan peserta dalam berbahasa Inggris, serta memberikan pengalaman yang tidak terlupakan bagi para peserta karena mendapatkan koneksi dengan peserta di seluruh Asia.
Sebagai salah satu acara tahunan yang tergolong sangat sukses, perlombaan The 2018 Asian English Olympics ini diikuti 600 peserta dalam berbagai kategori lomba dari 11 negara antara lain: Indonesia, Malaysia, Singapore, Thailand, Macau, Bangladesh, Philippines, Cambodia, Laos, South Korea dan Vietnam. Beberapa negara tersebut juga turut berpartisipasi dalam AEO tahun-tahun sebelumnya.
Sembilan mahasiswa yang mewakili Universitas Ciputra dalam perlombaan The 2018 Asian English Olympics ini antara lain: Dee Ijong Ang (BMI), Ni Made Erina Arya Puspita (BMI), Joshua Timothy Malawau (PSY), Kylie Julia Ahmad (IBM), Edwin Soewono (HTB), Karina Enny Agustina (IBM), Emanuelle Dea N. W. (MCM), Hanson Albert Wijaya (INA), Angeline Vivian Tjahyadi (PSY). Mereka mengikuti kategori lomba yang disediakan yakni Debate, Speech, Storytelling, dan Spelling Bee.
Didampingi oleh Natalia Christiani Djahi selaku Coordinator of Language & Culture Center (LCC) Universitas Ciputra, sembilan mahasiswa mengikuti rangkaian acara selama lima hari AEO. Rangkaian acara dibuka dengan Technical Meeting dan Coaching Clinic oleh juri yang akan menilai perlombaan AEO. Rangkaian berikutnya merupakan Opening Ceremony yang berlangsung sangat meriah dengan banyaknya penampilan yang disajikan untuk para peserta seperti Paduan Suara, Drama, dan yang paling menarik adalah sesi di mana 11 Bendera negara yang berpartisipasi dalam AEO dibawa untuk diparadekan di atas stage.
Pada tahapan berikutnya, terdapat rangkaian acara Preliminary 1 dan Preliminary 2 di mana peserta mendapat banyak feedback dari juri-juri mengenai saran dan kritik untuk penampilan tahap selanjutnya. Setelah mendapatkan banyak pembekalan oleh para expert, seluruh peserta menjalani tahap Octo-Final dan sembilan mahasiswa Universitas Ciputra yang mengikuti AEO berhasil lolos dalam tahap tersebut.
Bertanding dengan banyaknya peserta dari berbagai Negara, tentunya bukanlah hal yang mudah. Pada tahap selanjutnya, yaitu Quarter-Final, mahasiswa Universitas Ciputra yang berhasil lolos adalah Emanuelle Dea (MCM). Sayangnya, Emanuelle Dea juga harus terhenti dalam tahap tersebut. Namun, hal tersebut tidak menciutkan sembilan mahasiswa Universitas Ciputra, mereka melihat pertandingan pada tahap-tahap selanjutnya dan mendapatkan banyak pembelajaran.
Meskipun mahasiswa Universitas Ciputra tidak berhasil meraih juara, kita juga harus turut berbangga karena yang meraih juara 1 dalam The 2018 Asian English Olympics adalah peserta dari negara kita sendiri, Indonesia. Mari terus belajar dan mengasah diri untuk mengembangkan potensi diri kita agar menjadi sebuah prestasi.
(Kontributor : Selvy Tri Ciawati, MCM, 2015)