PROGRAM MAGISTER MANAJEMEN ONLINE LEARNING
Program Magister Manajemen Online Learning Universitas Ciputra menerapkan pembelajaran berbasis Entrepreneurship yang tidak terbatas pada jarak, ruang dan waktu. Anda dapat fokus pada bisnis dan karir yang Anda bangun, sekaligus juga dapat dengan fleksibel mengatur waktu untuk mengikuti perkuliahan. Kesibukan Anda dalam mengembangkan bisnis dan karir Anda, tidak akan menjadi penghalang bagi Anda untuk belajar.
FREE TRIAL CLASS PROGRAM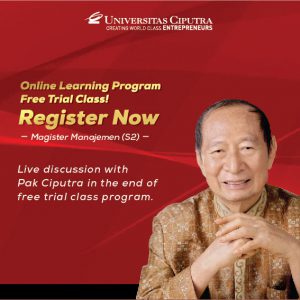 Free Trial Class Program adalah sebuah program yang ditawarkan oleh Program Magister Manajemen Online Learning Universitas Ciputra bagi siapapun yang ingin merasakan model pembelajaran secara online selama 2 minggu. Pendaftaran ditutup 1 Juli 2018. Free Trial Class Program akan dimulai tanggal 2 Juli 2018 – 16 Juli 2018. Peserta akan mendapatkan pengalaman langsung untuk berdiskusi dengan Ir. Ciputra melalui video conference. Bagi yang berminat dapat mengakses ke https://pmb.uc.ac.id/trial_pjj/
KURIKULUM
KELAS ONLINE
Code
Mata kuliah
SKS
Semester
Type
Prerequisite
MEM1001
Building Entrepreneurial Organization
3
1
Elective
MEM1002
Family Busineess: The Big Picture
3
1
Elective
MEM1010
Financial Accounting
3
2
Mandatory
MEM1003
Business Opportunity Creation
3
1
Mandatory
MEM1004
Marketing Management
3
1
Mandatory
MEM1006
Global Strategic Management
3
2
Elective
MEM1001 (D)
MEM1007
Sustainability Family Business
3
2
Elective
MEM1002 (D)
MEM1008
Entrepreneurial Project 1
3
2
Mandatory
MEM1009
Operation Management
3
2
Mandatory
MEM1005
HCM & Organizational change
3
1
Mandatory
 
MEM1011
Sustainability and Business Innovation
3
3
Elective
MEM1006 (D)
MEM1012
Family Tree and Regeneration
3
3
Elective
MEM1007 (D)
MEM1013
Entrpereneurial Project 2
3
3
Mandatory
MEM1008 (D)
MEM1015
Research Method & Multivariate Analysis
3
3
Mandatory
MEM1016
Strategic Management & Leadership
3
4
Mandatory
MEM1004, MEM1009, MEM1014 (D)
MEM1014
Financial Management
3
3
Mandatory
MEM1017
Thesis
6
4
Mandatory
 
BIAYA KULIAH
JADWAL KULIAH
Menyesuaikan dengan jadwal materi kelas online. Wajib hadir di kampus saat UTS dan UAS.
KEUNGGULAN
Waktu kuliah yang fleksibel
Kemudahan dalam belajar
"Kelas" terbuka 24 jam sehari
Kurikulum tidak berbeda dengan kelas konvensional
Metode pembelajaran yang tidak monoton
CONTACT US
Program Studi S2 Magister Manajemen:
Line : @ucmagister
HP   : 0838 4934 3601
Address:
Pascasarjana Universitas Ciputra
UC Town, Citraland CBD
Surabaya 60219
Jawa Timur
Indonesia