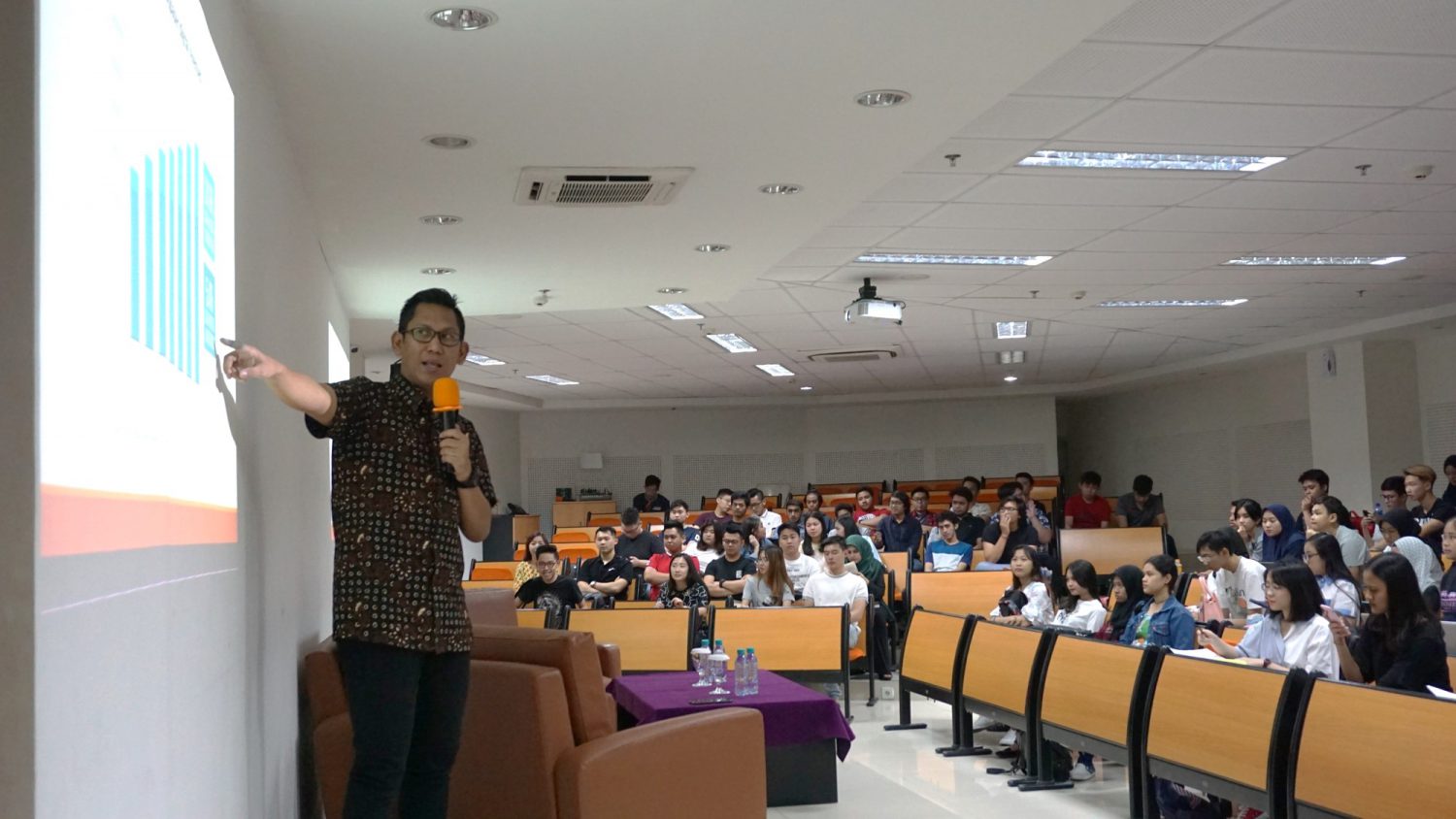 i'Talk (Innovation Talk) with Iro Fadil (Former GM of Jawa Pos Group & SBO Director dan Media Practitioner)
Hari Kamis lalu (6/9) UC Library & Fakultas Ilmu Komunikasi dan Bisnis Media UC melaksanakan i-Talk (Innovation Talk) bertema "Seluk Beluk Bisnis Media di Indonesia", dengan Pak Iro Fadhil (Owner Coffee Break, praktisi media, & brand management) sebagai pembicaranya.
Acara yang dimulai pukul 08.00 wib di Ruang Teater 713 lt. 7 UC, Pak Iro yang juga pernah menjabat sebagai General Manager Jawa Pos Group & SBO Director ini menjelaskan bahwa media sosial merupakan alat promosi bisnis yang efektif karena dapat diakses oleh siapa saja, sehingga jaringan promosi bisa lebih luas. Media sosial menjadi bagian yang sangat diperlukan oleh pemasaran bagi banyak perusahaan dan merupakan salah satu cara terbaik untuk menjangkau pelanggan dan klien. Media sosial sperti blog, facebook, twitter, dan youtube memiliki sejumlah manfaat bagi perusahaan dan lebih cepat dari media konvensional seperti media cetak dan iklan TV, brosur dan selebaran.
Media sosial memiliki kelebihan dibandingkan dengan media konvensional, antara lain:
Kesederhanaan
Dalam sebuah produksi media konvensional dibutuhkan keterampilan tingkat tinggi dan keterampilan marketing yang unggul. Sedangkan media sosial sangat mudah digunakan, bahkan untuk orang tanpa dasar TI pun dapat mengaksesnya, yang dibutuhkan hanyalah komputer dan koneksi internet.
Membangun Hubungan
Sosial media menawarkan kesempatan tak tertandingi untuk berinteraksi dengan pelanggan dan membangun hubungan. Perusahaan mendapatkan sebuah feedback langsung, ide, pengujian dan mengelola layanan pelanggan dengan cepat. Tidak dengan media tradisional yang tidak dapat melakukan hal tersebut, media tradisional hanya melakukan komunikasi satu arah.
Jangkauan Global
Media tradisional dapat menjangkau secara global tetapi tentu saja dengan biaya sangat mahal dan memakan waktu. Melalui media sosial, bisnis dapat mengkomunikasikan informasi dalam sekejap, terlepas dari lokasi geografis. Media sosial juga memungkinkan untuk menyesuaikan konten anda untuk setiap segmen pasar dan memberikan kesempatan bisnis untuk mengirimkan pesan ke lebih banyak pengguna.
Terukur
Dengan sistemtracking yang mudah, pengiriman pesan dapat terukur, sehingga perusahaan langsung dapat mengetahui efektifitas promosi. Tidak demikian dengan media konvensional yang membutuhkan waktu yang lama.
Dijelaskan pula dalam perkembangannya, media konvensional jatuh dari tahun 2015, seperti koran, majalah, TV Revenue karena teknologi media sosial (APP) menjadi tantangan bagi mereka.
Revolutionized Media:
Tradisional: komunikasi berjalan secara linear dengan akses yang terbatas.
Digital: komunikasi berjalan secara non linear, audience bisa merubah dan memprotes media tersebut.
Contoh :
Femina: zaman dulu majalah Femina gambarnya terlihat datar dan gelap, untuk yang sekarang majalah Femina tampil dengan full colour dan mempunyai sosial media.
Prambors: Zaman dulu audio entertaiment, sekarang national audio entertaiment on the go
TV (MNC Group) : Dulu single platform; sekarang multi platform
Koran: Dulu model print; sekarang multi platform
Mengelola media bisa dari apa saja asalkan memahami apa yang kita akan tunjukkan dan akan melengkapi bisnis kita. Tujuan trends bisnis koran:
(1) untuk bisa mendapatkan kepercayaan dari pembaca dengan itu bisa mempertahankan bisnis media (2) dengan melebarkan komunitas dengan event.
Zaman sekarang sosial media sudah didominasi oleh semua umur dan memiliki kebiasaan menggunakan sosial media berjam-jam (+/- 4 jam). Masyarakat menggunakan facebooksebanyak 64% sedangkan google 89%.
Info selengkapnya : https://library.uc.ac.id/italk-innovation-talk-with-iro-fadil/