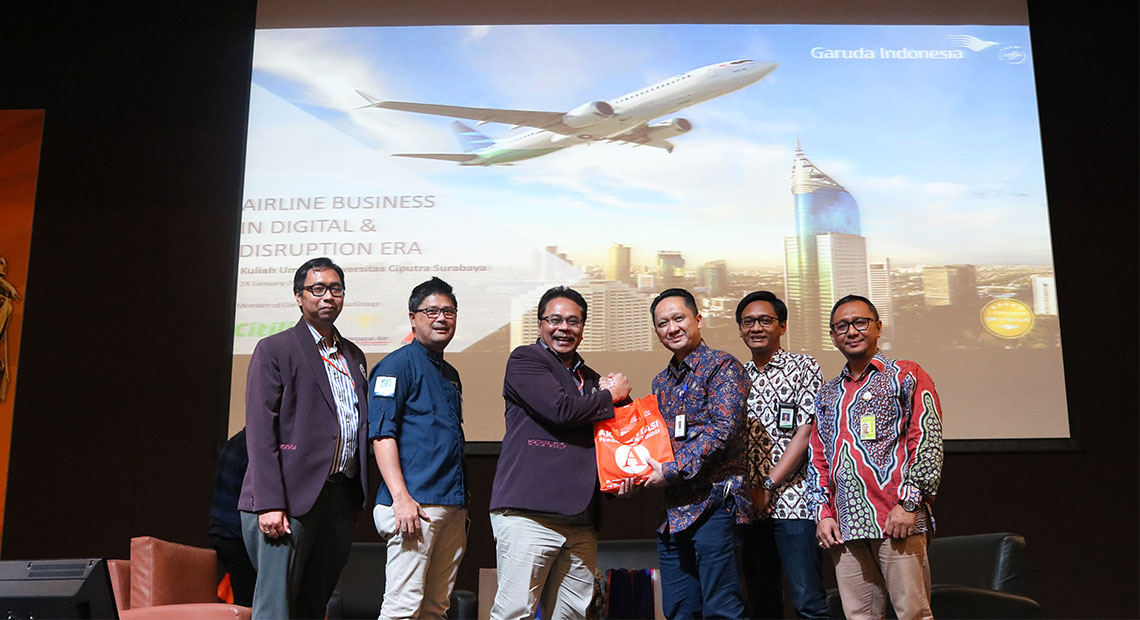 Garuda Indonesia dan Era Digital
Pergeseran model bisnis dari era analog ke era digital sangat berpengaruh terhadap perubahan strategi dan inovasi yang dimiliki oleh para pelaku bisnis. Tidak terkecuali dalam dunia airlines. Jurusan Hotel and Tourism Business, Universitas Ciputra dalam mata kuliah Airlines and Cruise dan Cargo, mengundang Garuda Indonesia Group dalam seminar yang berjudul "Airline Business in Digital and Disruption Era" pada Kamis, 24 Januari 2019 yang lalu.
Hadir sebagai pembicara dalam seminar Bapak Asa Perkasa, General Manager Garuda Indonesia Branch Surabaya serta pimpinan dari masing-masing maskapai Citilink, Sriwijaya & NAM Air, juga Cargo Manager dari Garuda Indonesia.
Asa Perkasa menuturkan bahwa era digital memiliki challenges sendiri terutama bagi Garuda Indonesia. Tantangan tersebut seperti efisiensi, pertumbuhan destinasi atraksi, ekonomi digital, technology and millennial disruption. Millennial kills golf and workplace merupakan salah satu contoh kasus yang diberikan oleh beliau untuk menunjukkan bahwa betapa era digital merubah kebiasaan yang sudah lama ada menjadi sebuah hal baru, yang apabila kita tidak bisa berinovasi untuk menghadapinya, maka bisnis itu sendiri akan gugur pada akhirnya.
Kolaborasi dan kerjasama Garuda Indonesia dengan partner airline sebagai salah satu strategi bisnis terutama untuk meningkatkan network and channel distribution expansion, dengan semakin banyaknya unit serta rute yang dapat ditempuh baik dengan bisnis maupun low cost carrier flight. Selain itu, database customer juga menjadi salah satu keuntungan dari kolaborasi dengan partner airline. Pun halnya dengan peningkatan Human Capital Capability di Garuda Indonesia Group itu sendiri. Garuda Indonesia juga memiliki group pendukung seperti Gapura untuk ground handling, GMF untuk maintenance facilities serta Garuda Indonesia Cargo. Dengan tetap menjaga standar dari segi keamanan atau safety, menciptakan berbagai inovasi seperti jaringan wifi yang disediakan oleh Citilink maupun hiburan live music di ketinggian pada penerbangan Garuda Indonesia, serta kolaborasi untuk memperluas jaringan dan pasar, Garuda Indonesia akan terus meningkatkan pelayanan dan bersaing dalam era digital.
( https://www.uc.ac.id/htb/garuda-indonesia-dan-era-digital/ )